(Direct Burial)URD Cable Structure
Color: distribution cable is black.
Description: Underground Secondary Distribution Cables are twisted assemblies of aluminum alloy 1350 conductors insulated with cross-linked polyethylene. This underground electrical wire is used in various underground applications in secondary distribution circuits at up to 600 volts.
Conductor: Compressed Class B compressed stranded, 1350 series aluminum alloy.
Insulation: Black cross-linked polyethylene (XLPE)
Assembly: Phase conductors and neutral conductors are cabled together to form a twisted assembly.
Applicable Standards: – UL 854: Service Entrance Cables
– ICEA S-105-692 Standard for 600 Volt Single Layer Thermoset Insulated Utility Underground Distribution Cables.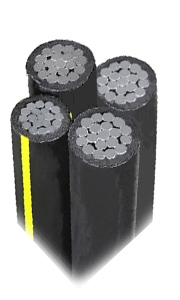 Quadruplex URD Wire  
4-4-4-4 Tulsa URD Wire
2-2-2-4 Dyke URD Wire
2-2-2-2 Wittenburg URD Wire
1/0,1/0,1/0 & #2 Notre Dame URD Wire
2/0,2/0,2/0 & #1 Syracuse  URD Wire
3/0,3/0,3/0 & 3/0 Davidson URD Wire
4/0,4/0,4/0 & 2/0 Wake Forest
4/0,4/0,4/0 & 4/0 Earlham URD Wire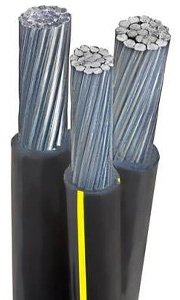 Triplex URD (Direct Burial) Wire 
6-6-6 Erskine Triplex URD Wire
4-4-4 Vassar Triplex URD Wire
2-2-4 Stephens Triplex URD Wire
2-2-2 Ramapo Triplex URD Wire
1/0,1/0 & #2 Brenau Triplex URD Wire
1/0,1/0 & 1/0 Bergen Triplex URD Wire
2/0,2/0 & #1 Converse Triplex URD Wire
2/0,2/0 & 2/0 Hunter Triplex URD Wire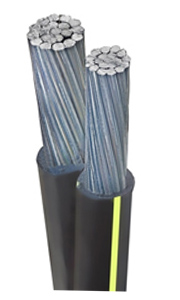 Duplex URD (Direct Burial) Wire
8-8 Bard duplex URD Wire(direct burial)
6-6 Bard duplex URD Wire(direct burial)
4-4 Bard duplex URD Wire(direct burial)
2-2 Bard duplex URD Wire(direct burial)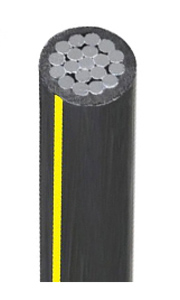 Single URD (Direct Burial) Wire 
6AWG Princeton Single URD Wire
4AWG Mercer Single URD Wire
2AWG Clemson Single URD Wire
1/0 Harvard Single URD Wire
2/0 Yale Single URD Wire
3/0 Tufts Single URD Wire
4/0 Beloit Single URD Wire
250MCM Hofstra Single URD Wire